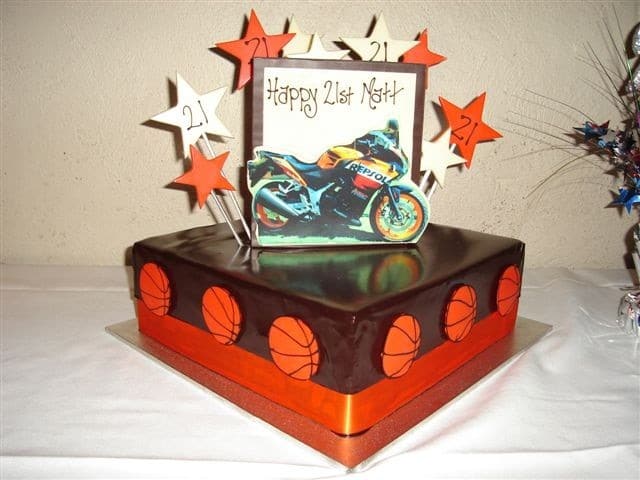 Wendy
To the wonderful staff at Heidelberg Cakes, Just a quick 'thankyou' for the fantastic cake you made for our son's 21st Birthday, Matt loved it, as did all the guests at his party With his love of his bike and basketball, it turned out just as I imaginedᅠand we are still gettingᅠcomments onᅠhow great it tasted and asked who made it. Yours Sincerely, Wendy.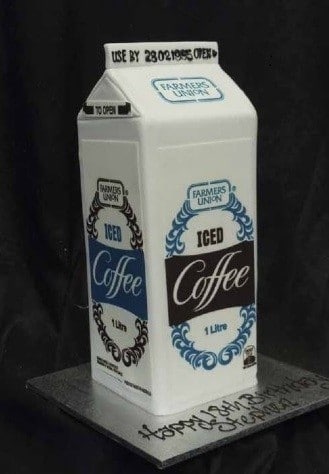 Dear Heidelberg Cakes,ᅠThank you very much for the wonderful Farmers Union Cake purchased last week for my son's 18th birthday.ᅠFrom your excellent on line presentation and purchase system, through to telephone contact with staff, pick up arrangements and of course the cake itself, it was a pleasure to deal with you.ᅠEveryone, including the birthday boy, was blown away by the excellence of the cake on every level and I was approached by complete strangers at the venue and asked where it had come from, so your word of mouth sales should improve markedly from that one cake alone! Not to mention all the people at my workplace who "hoovered" the leftovers and wanted to know who had made such a delicious cake.ᅠI came to you on recommendation by a friend and I'll certainly be recommending and using your excellent service in the future.ᅠMany thanks and best wishes,ᅠJane.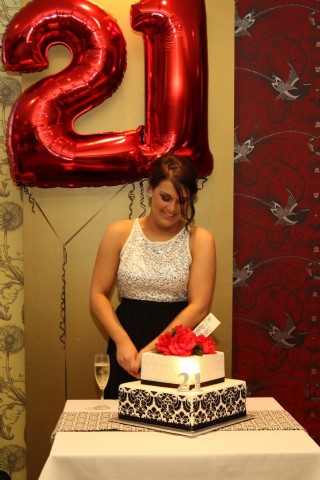 21st Birthday Cake in Red White and Black
Thank you for this beautiful cake! I've always adored the work you do to create these masterpieces and when my 21st came around i had to take the opportunity to have my own! the final product exceeded any of my expectations and matched my theme perfectly! It got many compliments throughout the night … and tasted delicious too! x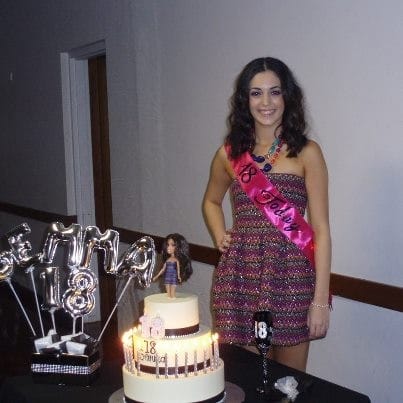 A big thankyou to heidelberg for creating my amazing cake with a matching barbie doll dress just like mine!ᅠWe scanned in the material of Gemma's dress then reduced the size of the pattern and printed it onto edible fondant with vegetable dye.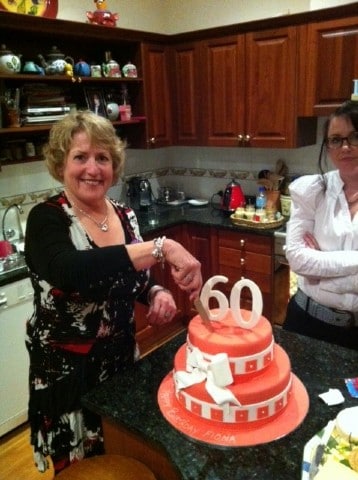 Hi Carolyn,ᅠJust wanted to say a massive thank you, the cake that you made for my mother in law on Saturday looked fantastic and she loved it!ᅠThe colour was perfect and it was everything I imagined,ᅠThanks Again,ᅠKate.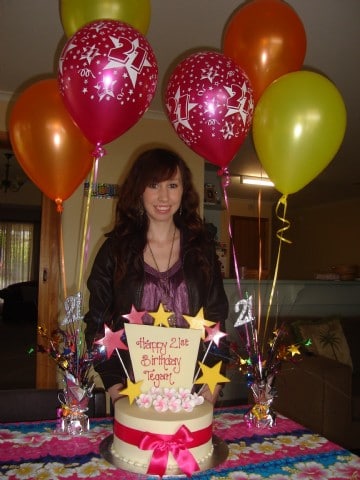 Wendy
To all the staff at Heidelberg cakes,ᅠI picked up my daughter, Tegan's 21st cake on Saturday and had tears in my eyes, it was just perfect, exactly how I imagined it.ᅠ As it was also gluten free, it was the first cake in ages she has eaten without feeling sick, so I know where to come for her future cakes! So a big THANK YOU for making Tegan's day so special.ᅠYours sincerely,Wendy.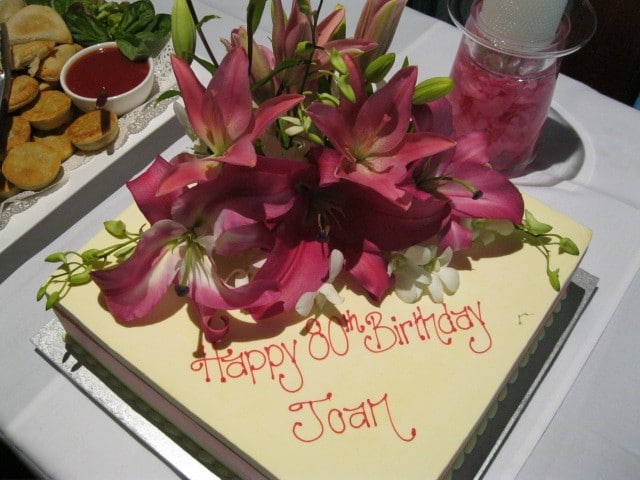 Thank you so much for the beautiful cake you made for our Mother's 80th Birthday. Everyone made comment onᅠhow beautiful it was and how good itᅠtasted. I knew the citrus delicious would be a hit withᅠmy mum especially.ᅠThis is the third cake our family has bought from you and it certainly won't be the last. My sister had her son's wedding cake made by you, and I had my daughter's 21st cake made by you. She has just got engaged so watch out for more. ᅠWe have recommended you to some of the guests at the party. Thanks again, Mary, Morphett Vale.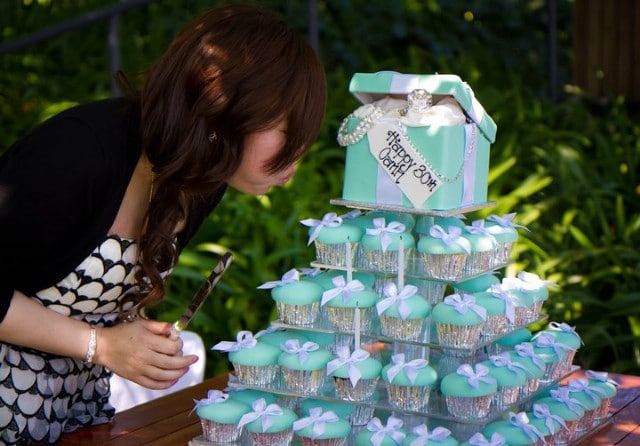 Stunning cupcaksᅠat a beautiful place (Carrick Hill) Thank you so much Oanh for letting usᅠhelp celebrateᅠyour special day and sharing your photos with us.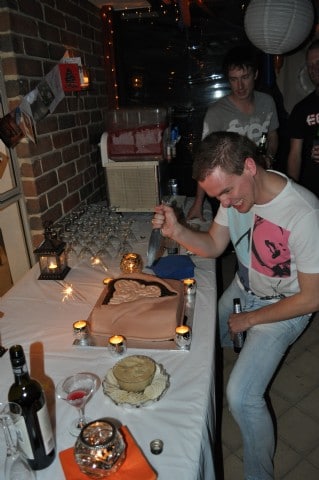 Kerrie
Hi James, I just wanted to let you know about the 'bowel cake' party last Saturday night. The cake was the star of the party, and I should have had about 100 of your business cards to hand out! My nephew was stunned with it, and it was such a party of joy and humour which the bowel cake topped off to perfection. He gave a beautiful speech about surviving surgery and chemotherapy.ᅠI have included a photo of the 'bowel resection', which was accompanied by a rousing chorus of 'Happy Bowel Day to you'. Hi surgeon and chemo nurses who were there thought it was a great idea. So thank you again for being so willing to go along with what I wanted. We will never forget it.ᅠKind regards, Kerrie.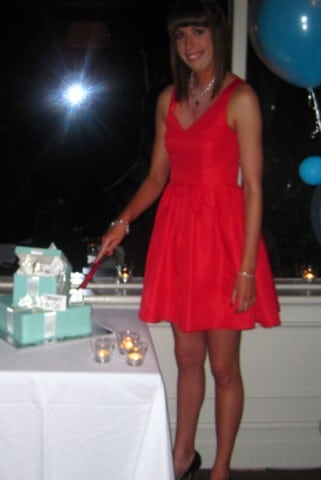 Bobbie
Our family would like to thank you for making Brittany's Tiffany 21st birthday cake. Wow, what a work of art!ᅠ It was just so beautifully decorated that it was a shame to cut into it. It was absolutely delicious.ᅠWe had so many comments and people were just blown away by it.ᅠThanks once again and will certainly buy another cake when the occasion arises.ᅠPlease find attached a couple of photos from the nightᅠKind regardsᅠBobbieThank you so much for sharing these photos with us. Gorgeous.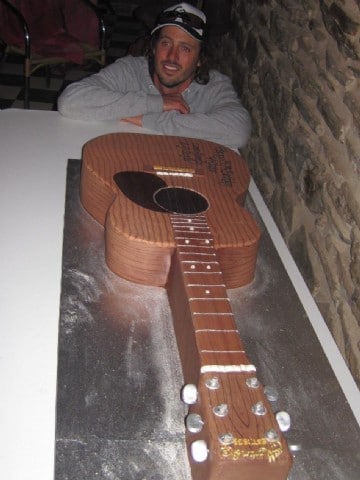 Helen
Hi James and Carolyn, I have attached a photo of Alister with the guitar cake. I have to thank you again, he was very impressed and it tasted amazing. Believe it or not we only ended up having half the neck of it left after this birthday. It was a big hit and everyone was asking where I got it from. So thanks again and well done, you guys helped make Alister's 30th a big success. Regards, Helen.
Elisha
Dear James, Carolyn and the Heidelberg team, Just a quick message to say thank you very much for the most beautiful croquembouche for my 21st Birthday party!ᅠThe croquembouche was so impressive and all of my guests and I thought it looked incredible and tasted even better!ᅠThank you also for delivering it to the venue and for including sparklers as well. I will most definitely recommend your company to friends and family, and will also continue to order your quality cakes in the future. Thanks again, Elisha. PS I've also attached a photo of the cake and me on the night.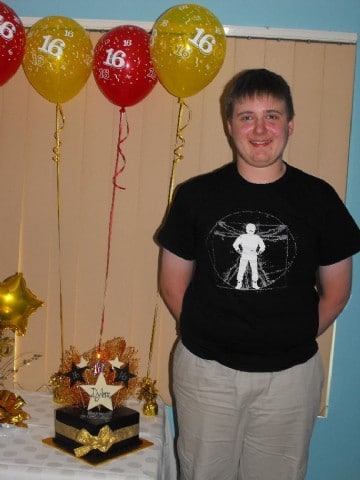 Sue
I just wanted to thank you for the beautiful cake you made for my son's 16th birthday. It was stunning to look at and was absolutely delicious. It truly lived up to its name of chocolate indulgence. Thanks again.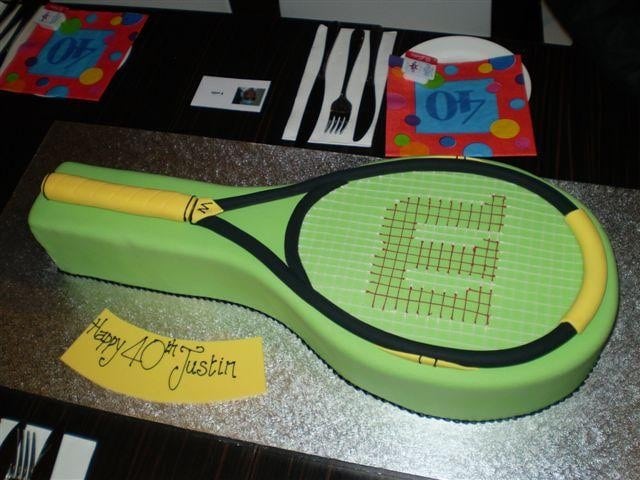 Hi James and Carolyn, Just a quick note to say thank you for preparing such a fabulous birthday cake for my husband's 40th at the weekend. I have attached a photo for your display books, although you may have already taken one. We had other diners at the restaurant (Holdfast Hotel, Glenelg) coming up to our table to look at the cake and everyone was in awe at how meticulously it was decorated. My husband was in shock when he saw it and being a Wilson sponsored tennis coach marvelled at how perfect their logo was. It really made a good impression and a great centrepiece for the table. We had so much left over but the beauty with your cakes is that they still taste awesome after being frozen so we will continue to enjoy it probably up until Christmas! Thanks once again, we'll keep coming back to you for all our special occasions. Kind regards. Carolyn may remember me as the person who had the Tiffany & Co box back in 2006 for my 30th Hollywood themed party and you guys did our wedding cake last September at Camelot Castle).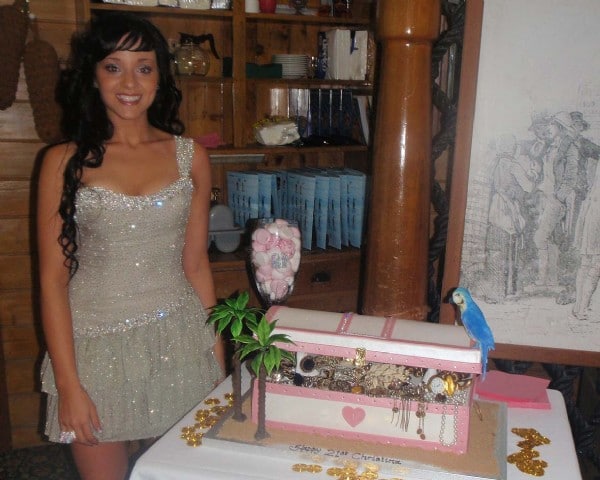 Dear Team,ᅠᅠMy name is Christinaᅠ and I ordered a 21st birthday cake for the 18th July 2009. The cake was a treasure chest with a sugar bird and sugar palm trees. I didn't have internet access for a while so I haven't been able to get in contact. I would like to thank you ever so much for the lovely cake, you all did an absolutely fantastic job with it!! I had so many of my guests commenting on it saying it was truly 'a work of art'. They all were amazed by the bird, the palm trees and most importantly they loved the taste saying it was 'delicious'.ᅠThe night was made special by a truly marvelous cake, my deepest thanks again.ᅠI have recommended your business to all my friends and family, and I am looking forward to a future of many beautiful Heidelberg cakes!!ᅠI have attached some photos of myself with the cake!
ᅠThank you,ᅠᅠᅠChristina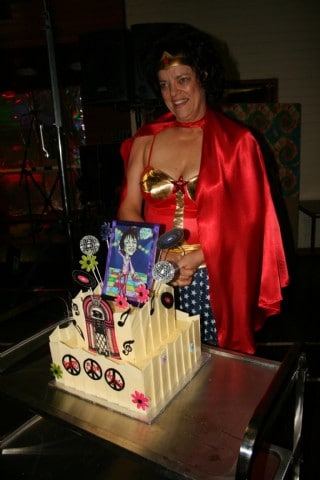 Gayle
Hi.ᅠI just wanted to say thank you thank you thank you for the truly amazing cake you made for my 50thᅠIt was perfect ヨ and so easy to organise ヨ no fuss just excellent serviceᅠI cant thank you enough ヨ I will definitely be recommending you and I will be back for our next function.ᅠRegards,ᅠGayle.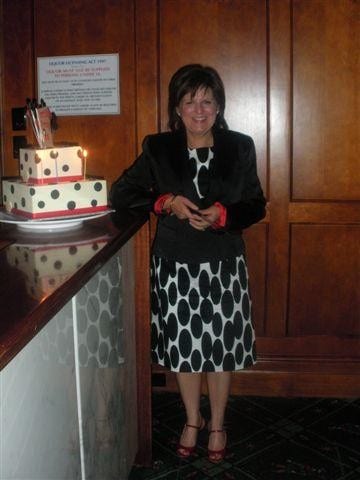 Just wanted to say a big thank you for the fabulouscake you guys made me for my 50th Birthdayon 10/10/09. It was a two tier black polka dots cake for Anna that was delivered to the Robin Hood Hotel. Every one loved it and I even found a dress to match the cake. Thanks again.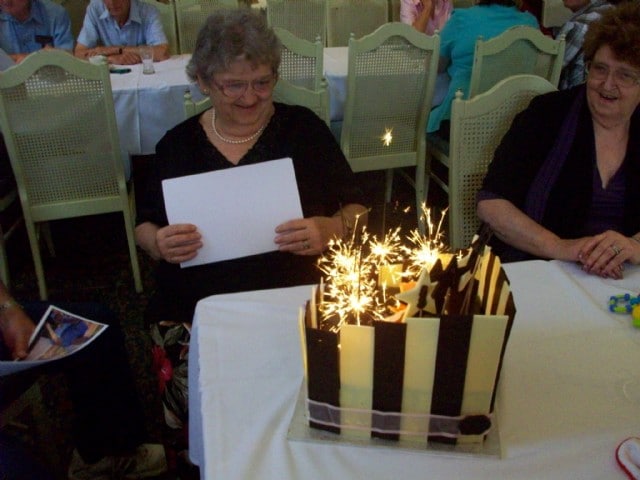 Marion was very suprised when she saw her lovely 70th birthday cake come out.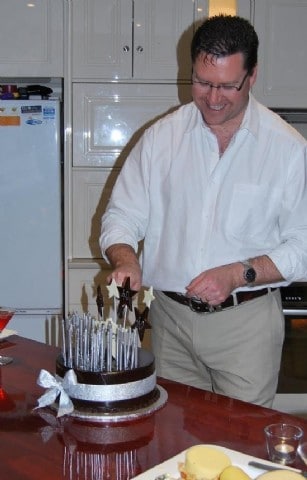 Dear James, ᅠThanks for your email. I have attached a photo of Damien cutting the cake … unfortunately I did put 40 candles on the cake which hides a lot of the beautiful stars that you did,ᅠbut you can still see how happy he was!ᅠI wish you all the very best and look forward to having any excuse to come back and order another cake from you!ᅠKind regards, Michaela.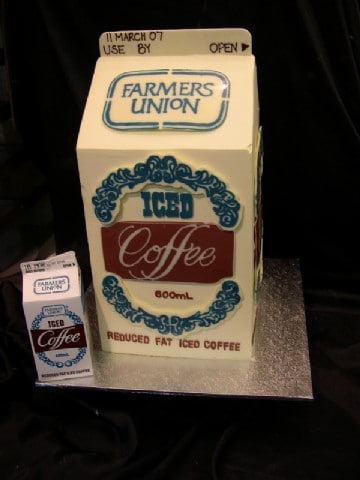 Hi there, I've just visited your web-site and noticed the 'Farmer's Union Iced-Coffee' cake and you made it for me for my husband's 50th and so I was both delighted and surprised to see it there, especially since it was nearly 5 years ago.ᅠI want to say what a fabulous cake it was, not only did it look spectacular, and was exactly like the real thing, but the cake itself was sumptuous, delicious and adjectives fail me to really describe what it was like!! Our friends still talk about it, and my son who was 11 at the time, wants one for his 18th. So I'll be contacting you in 18 months time to do another. I've given your name to many people over the years, as the one place to go to get not only a delicious cake, but one that can look completely different! Kind regards,ᅠJacqui Howard, Personal Assistant to Professor Jan Pincombe.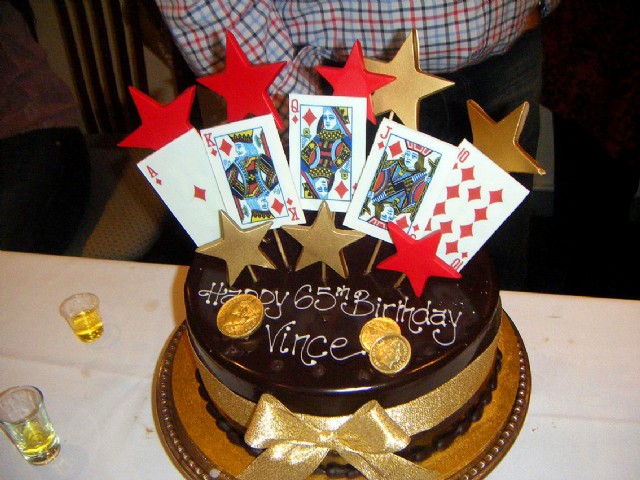 65th Birthday Poker Cards Cake
Maria
Hi. We would like to say thank you for the wonderful cake for Vince's 65th birthday on Saturday. It looked fantastic and tasted even better. We had so many comments on the cake it was fantastic!We have included a photo for you as well. Thank you again. Maria Rocca.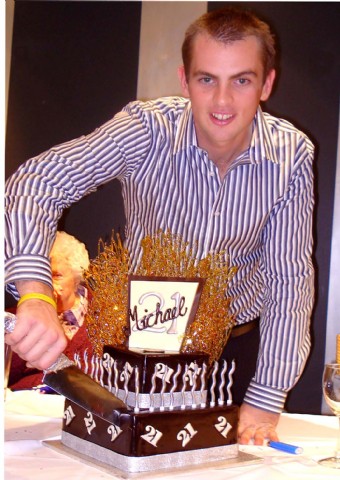 2 Tier Baci – 21st Birthday Cake
Jenny
Just wanted to let you know that the cake you baked and decorated for our sons 21st birthday was fantastic not only in presentation but also in flavour. We would have no hesitation in recommending Heidelberg Cakes to anyone.Your service and your product could not be faulted and we just wanted to thank you for making our celebration just that little bit more special. A SPECTACULAR CAKE! Thank you again.ᅠJenny.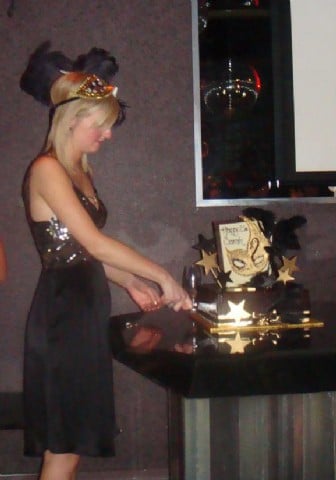 Sarah
Iᅠwould just like to thank you both and your staff for the beautiful cake you made for my masquerade 21st! It was stunning and matched the theme and my own mask very well. I had a fantastic Birthday and everyone loved the cake, it was delicious. ᅠI have attached some photos of me with the cake. Thank you again!ᅠSarah.
Vanessa
To Heidelberg Cakes, Thank you for making such an amazing cake for my 30th Birthday. The cupcakes were such a sensational idea and there weren't many left by the end of the evening! It was just perfect! Thank you once again, Vanessa.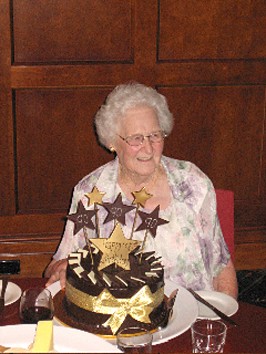 Cathie & Jenni
Dear James and all the staff at Heidelberg Cakes, Thank you so much for the wonderful cakes and exceptional service that you provided for us when in Adelaide last week. Gran loved the cakes and we had many comments from her friendsat the afternoon tea about the cupcake tier. They looked as good as they tasted … and tasted as good as they looked. Either way – it was wonderful, and helped to make a very special occasion even more enjoyable. Thank you so much for allowing us to store the cake for another day and pick it up on the Sunday … we really appreciate this. I have attached a photo of Gran (Nancy Farmer) with both cakes. We will definitely be recommending Heidelberg to anyone who asks… and returning ourselves when next in Adelaide. Thank you once again. Kind Regards, Cathie Wiltshire & Jenni Horsburgh (and the whole family all 25 of us!)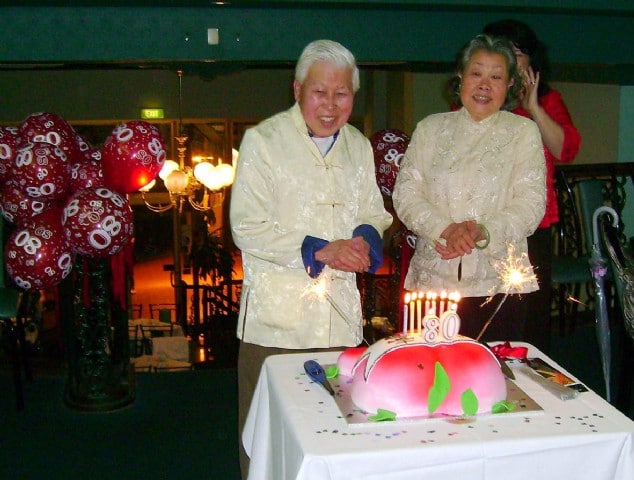 Mei-Mei
Dear James and Carolyn, Here are the photos of the longevity cake that you made for our Dad's 80th. The cake was a stunning success and was much admired by all. Thank you so much for re-working the cake to perfection. You made our Dad very happy that night and the cake will go down in memory as one of the highlights of the evening. I've even taken one of the smaller 'pears' back to Hong Kong as a gift for our relatives here! Once again, my family's thanks and deep appreciation. Warmest regards, Mei-Mei Ros.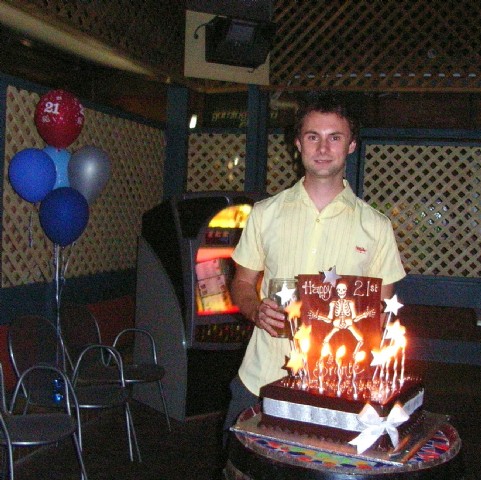 Bronte
A chocolate skeleton was the perfect theme for this 21st birthday cake for a chiropractor.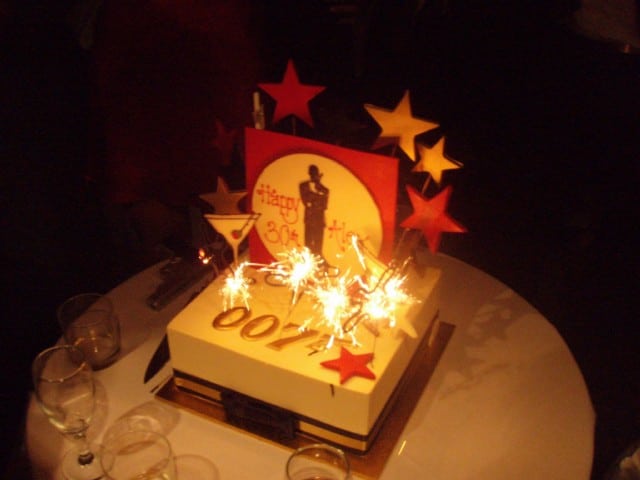 We are remiss in not having contacted you to say a big thanks for the 007 cake you made for our son, Alex's 30th birthday for Saturday march 22 – it not only looked sensational but tasted great – almost too good to eat.ᅠ A couple of picturesᅠare attached.ᅠ Again thanks for a wonderful creation! Regards Chris and Debbie Stagg, Golden Grove.