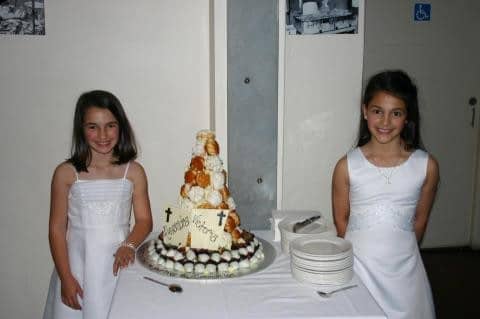 A Croquembouche Confirmation
Beautiful! And another magnificent cake from our friends Heidelberg Cakes.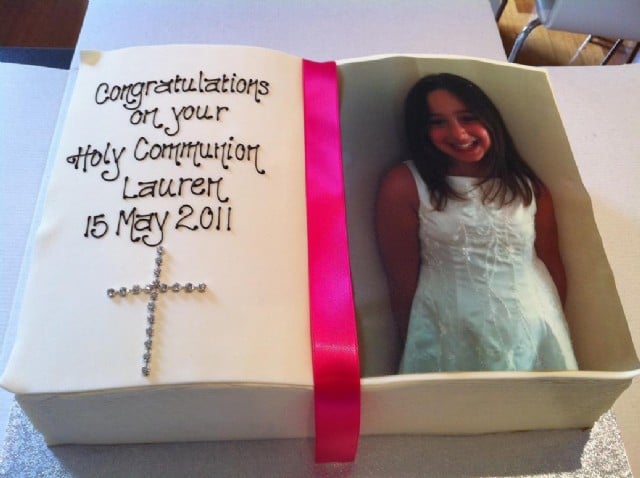 Thank you for the beautiful cake, everyone loved it and commented on itsᅠpresentation. Looking forward to more creative cakes from you on special occasions. Enjoy the rest of the week and best wishes.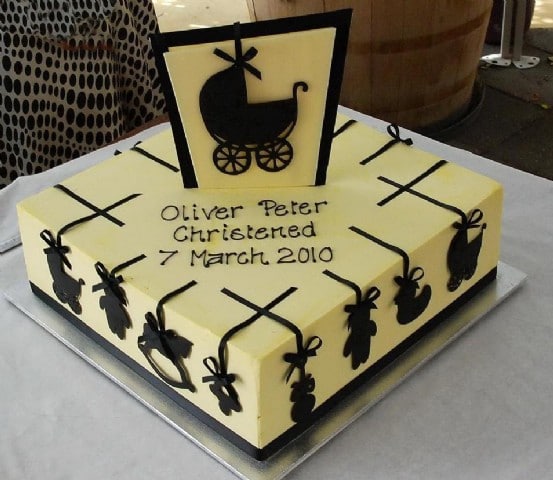 Black and White Silhouettes
Hanna
Hello,ᅠI don't actually have an enquiry, rather a short message to say Thank You!ᅠI've attached a picture of the Christening cake you made for my son which truly was a work of edible art!ᅠOur guests couldn't believe the detail and how spectacular the cake looked with the silhouettes replicated from our invitation.ᅠThe citrus taste was fantastic and we were getting compliments all day long along with enquiries as to who made this for us.ᅠNeedless to say, we have let people know who made the cake and you may just be getting a few orders coming your way of cakes for birthdays and christenings.ᅠThank you once again, you never disappoint!ᅠKind Regards,ᅠHanna.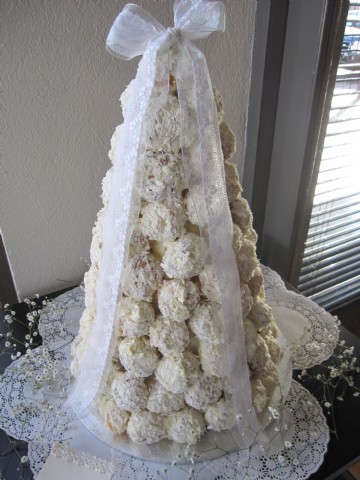 Christening Croquembouche
Luciana
What a fantastic idea to have a croquembouche for a christening cake. This could be used for a formal sit down lunch and plated or guests could help themselves for a more informal day.ᅠ I think it looked fantasic and as you can see from the email we received so did our client.ᅠHi guys, Just wanted to send a photo of Evaメs christening cakeナit was a hit everyone loved loved it!! Sent a photo just to remind you of your work. Thanks again, Luciana.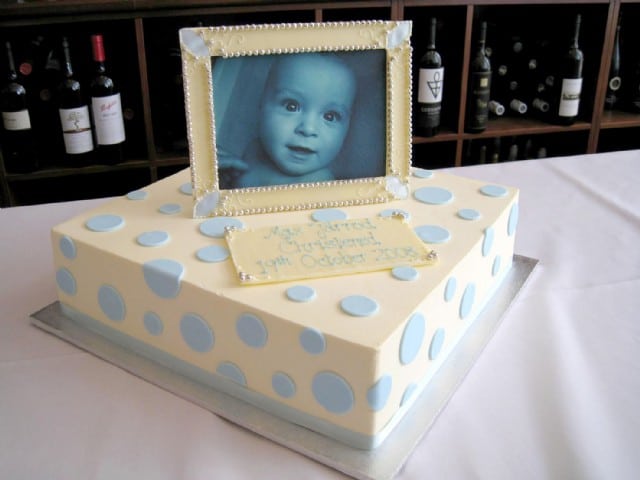 To all the Crew at Heidelberg Cakes,ᅠWe wanted to thank you for the exquisite cake you made for Max's Christening. When I walked in I said I wanted a sensational Christening cake and I certainly got what I wanted. All of our guests thought the cake was absolutely stunning and that it tasted divine. I'm looking forward to Max's birthday now so I can come in to order his next cake!ᅠThanks again, Georgie.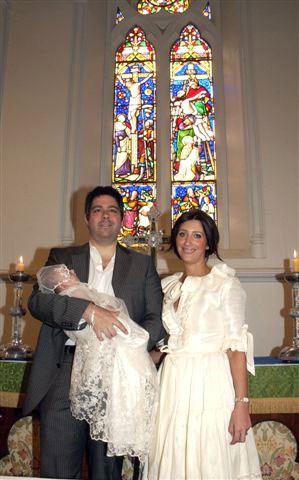 Merry Go Round Christening Cake
Tammy
Here is a photo of Preston and us just after the service. Any photos of him with the cake are him in his casuals! I also would like to say thank you very much as the cake was amazing! I will also forward a couple of photos of us with the wedding cake you did for us. Tammy.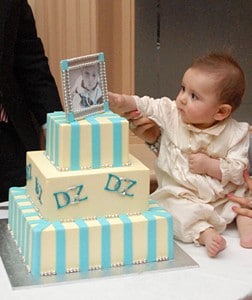 Blue and White Stripe Christening Cake
Tania
Hi. Thanks so much for making Dions christening absolutely perfect, the cake was a real work of art and was really adorned by all guests. Once again you have done a fantastic job. Regards, Tania.
A very funky christening cake that was sent to Port Lincoln. This cake was covered in smooth buttercream then icing dots were added in the popular blue and brown. Hello There! I just thought that I would send a few pictures through of Laikin'sᅠChristening on Sunday. It was a gorgeous cake! Everyone commented onᅠhow delicious it was! I tried really hard to convince everyone that Iᅠmade it myself, but to no avail! They all know me better than that. You may also be wondering why the shard was put in back the front!ᅠWell, I would like to blame someone else, but that was in fact myᅠfault! It's pretty hard to get things right when there's about 20 little pairs of hands trying to attack the cake and take the dots! So I must apologise for that (think you can see the little 'b' inᅠsome of the shots). Anyway, I hope the pictures are okay and thanks again for getting itᅠsent over so quickly for me. Kind Regards, Tamara Whittaker.