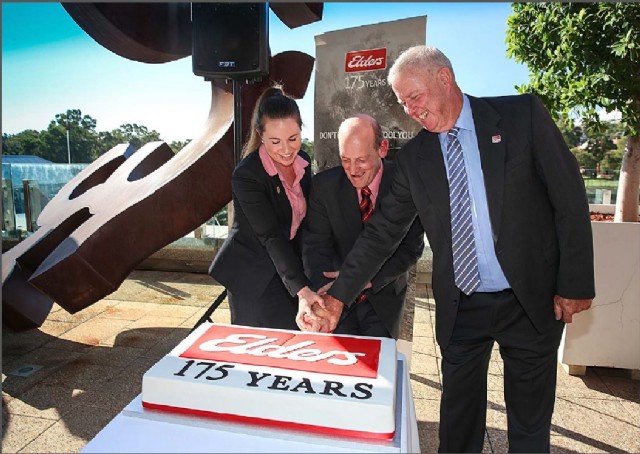 Elders Celebrate 75 Years
Dear James,ᅠA short note the say a very large "thank you" for your lovely celebration cake.ᅠIt looked amazing on the day and tasted even better. For being such a huge cake it all disappeared very quickly.ᅠThank you again for all of your help and a few photos attached to show it in its glory.ᅠAll the best.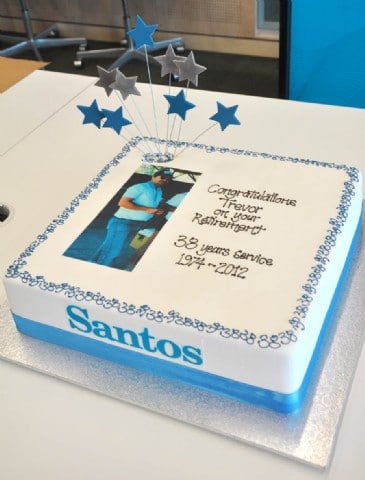 Hi James and Carolyn, Just wanted to say a huge thank you for the cake ヨ it looked fantastic and tasted delightful.ᅠI have attached a few photos for you.ᅠAgain a big thank you.ᅠRegardsᅠTanya, Administration Assistant, Santos.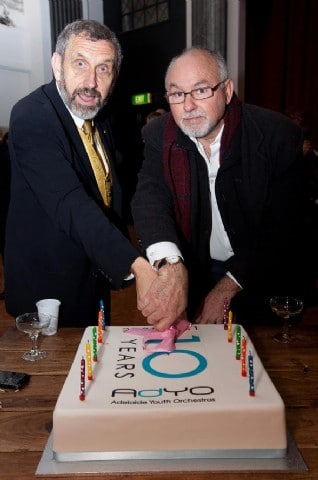 10 Year Celebration for the Adelaide Youth Orchestra
Adelaide Youth Orchestras ヨ SAメs pre-eminent youth orchestra recently celebrated its 10th anniversary with a sold out concert featuring its three orchestras in the Adelaide Town Hall, followed by an after party with 175 guests who all raved about how tasty and moist the chocolate mud cake was enjoyed by all.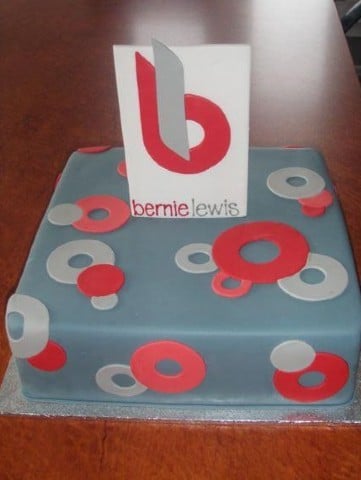 Tania
Mark Lewis & his sister Vanessaᅠcutting the cake at a Bernie Lewis Launch.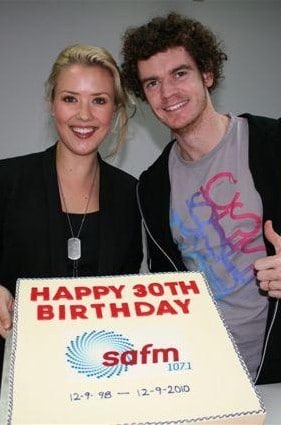 Thank you so much for our SAFM birthday cake!ᅠThe staff loved it and it tasted delicious.ᅠI've attached a photo for you to use on your website featuring two of our workday announcers Abby Coleman and Adrian Brine.ᅠRegards, Jenny.
Dear Carolyn and Staff,ᅠThank-you so much for a fantastic cake. The design, quality and quantity you prepared for our Centenary Celebrations was outstanding.ᅠOur General Manager was speechless when it arrived at the depot. As you can see we were the winning state … Never a doubt really.ᅠAgain モThank Youヤ.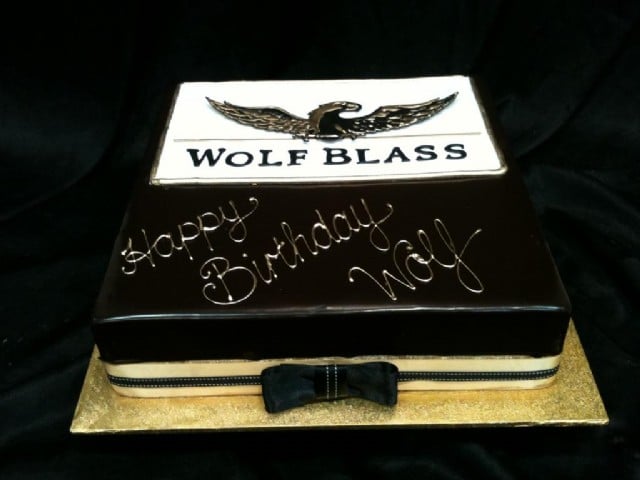 We were thrilled to help Wolf Blass celebrate another milestone.ᅠThis cake is a yummy chocolate indulgence a combination of the rice paper logo and hand written painted gold lettering and of course a bow tie!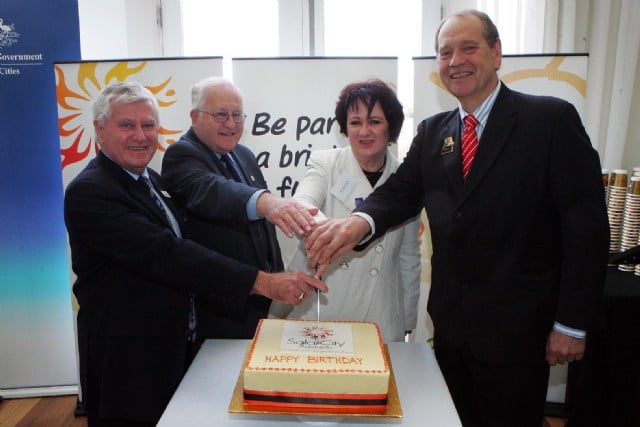 Solar City
A wonderful way to celebrate is with cake! Here the Mayor of Salisbury cuts the cake to celebrate Solar City Adelaide.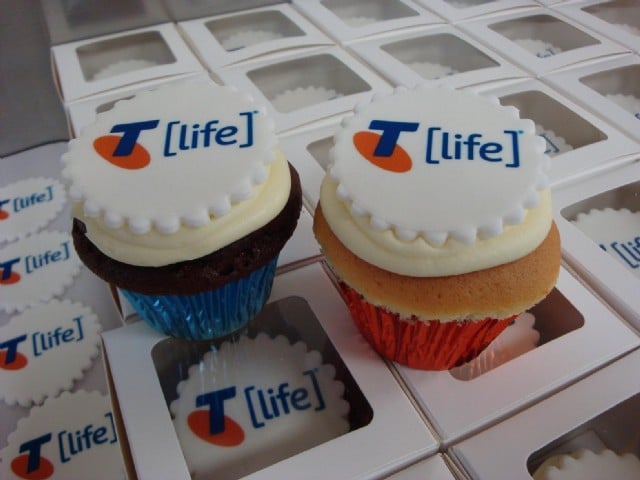 What very lucky customers that were given an individually boxed cupcake with the Telstra Logo at the opening of one of there many T-life stores.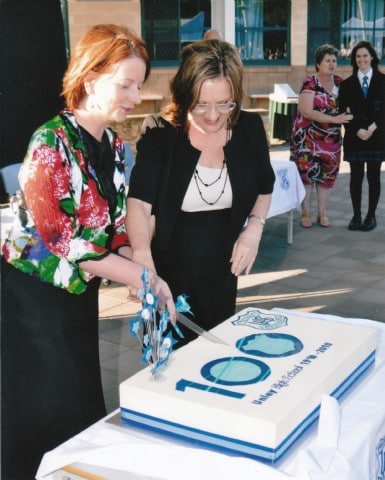 Unley High School Centenary Celebrations – Our New Prime Minister
Dear James and Carolyn. I am writing to thank you of your very generous contribution to the Unley High School "Kick Off" for our centenary celebrations. Your cake was beautiful.ᅠIts was a real pleasure for me to cut the cake with Julia and provided a key symbolic moment for us to start our year of celebrations.ᅠYour generosity is outstanding.ᅠ We have received a great deal of positive feedback about the event and your cake added to the professionalism and sense of the celebration on the night.ᅠThank you, Susan Cameron, Principal.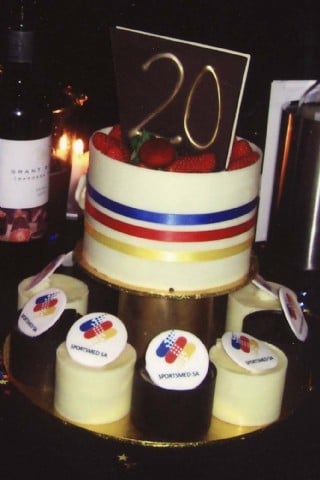 We just received this wonderful letter.ᅠ This is what makes all the long hours worth it. Dear Carolyn and JamesI am writing to thank you for creating the beautiful cakes, that were the centrepiece of Sportsmed-SA's Gala Dinner in June. Not only was the tiered arrangement was visuallyspectacular (There were audible gasps as the cakes were brought to the tables), but they were absolutely delicious. Your customer service and willingness to think creatively to acheice the end result was as memorable as the cakes themselves. Thank you once again for providing a fantastic product that gave Sportsmed-SA's event an element that will be remembered for years to come. I enclose images for you and reference.ᅠKindest Regards, Janine Jenkins, PR Manager.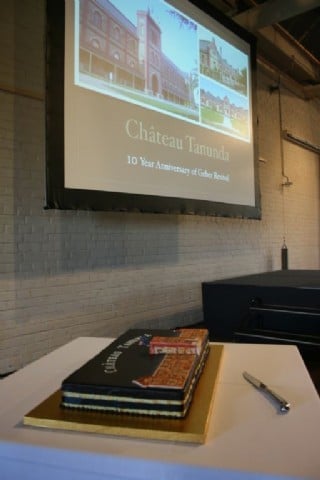 We have sent many weddingᅠᅠcakes to Chateau Tanunda so we were thrilled that they chooseᅠus to makeᅠaᅠcake for their special celebration.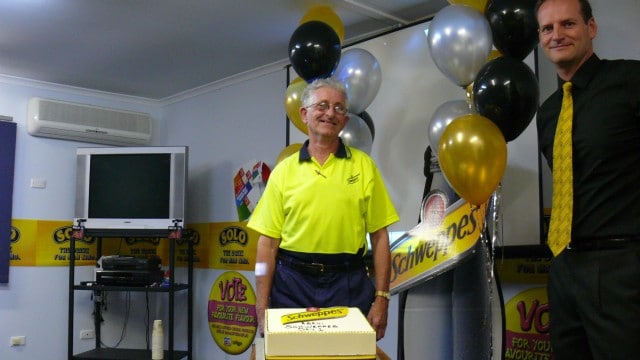 Hi James, I just wanted to say thankyou so much for all your assistance with the cake ordered for Schweppes Everybody loved it. Hope the pictures turn out for you. The older gentleman has been with the company for 41 years, so he got to cut it. Regards, Heather Harkin, Administration Beverages Schweppes.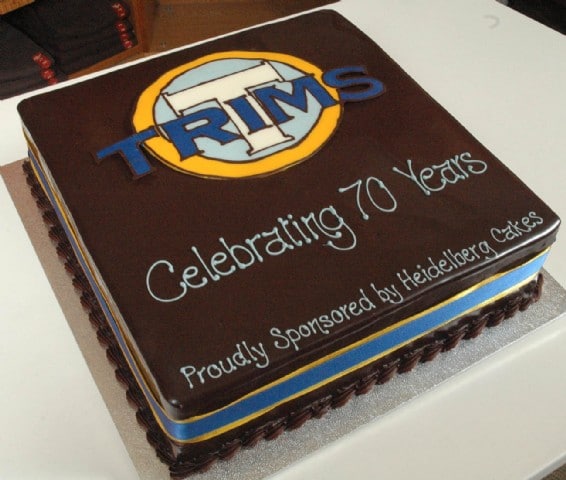 Adelaide's famous Trims clothing store asked Heidelberg Cakes to prepare their celebration cake to mark their big occasion!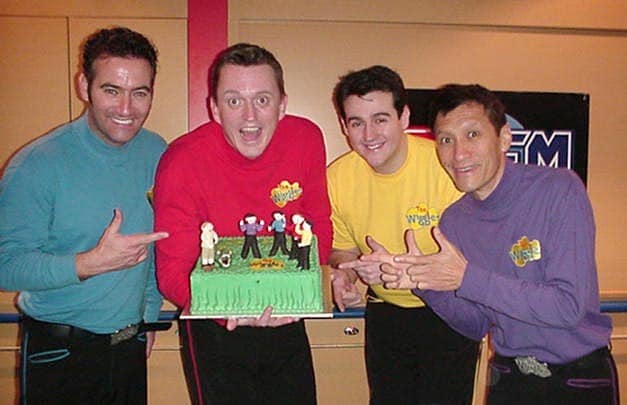 We loved making a cake for the launch of the movie Wiggly Safari, complete with 'the Crocodile Hunter' Steve Irwin and his crocodile icing figurines.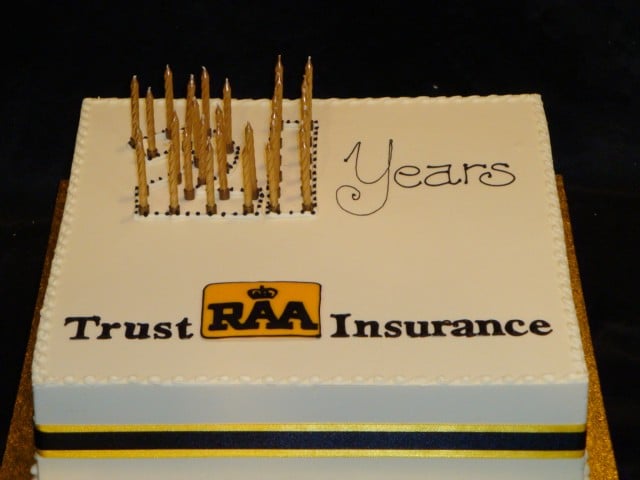 Hi Carolyn. A BIG thankyou to you and the guys at Heidelberg Cakes! Both cakes looked fantastic and were absolutely scrumptious. On behalf of RAA Insurance … thankyou and we really appreciate such a fabulous job. Cheers, Sara, RAA Insurance Corporate Projects Coordinator.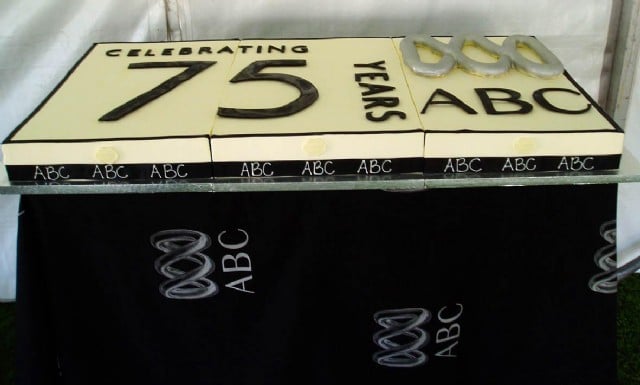 It was a privilege to be involved with the ABC for their 75 birthday celebrations in Elder Park. These celebrations were held in every city and we were told from someone that had attended a few that our cake definitely was the best.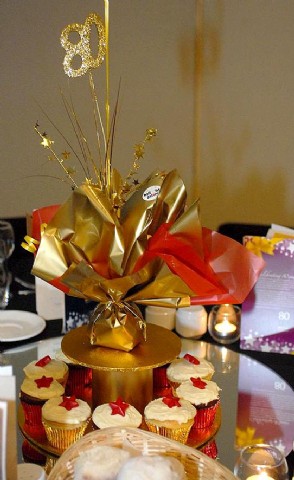 http://www.ljhooker.com.au
Cup cakes were the rage at this spectacular function for LJ Hooker's 80th. Everyone could help themselves from the stunning table centre pieces.