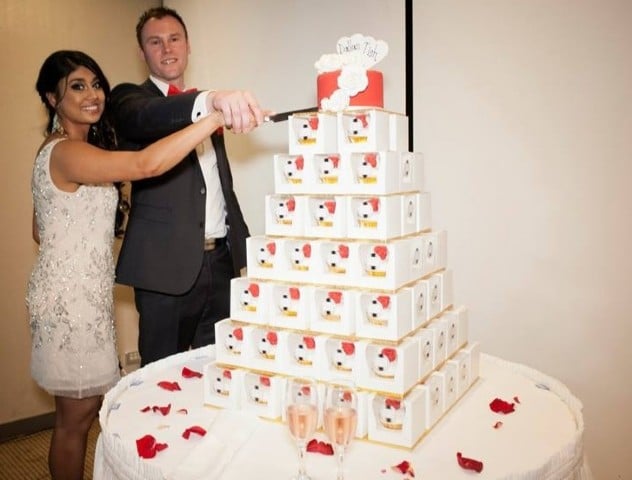 Hi James and Carolyn,ᅠJust wanted to say a big big thank you for the lovely cake! It was yummy and beautiful!ᅠEveryone loved it and there were a sneaky few that tried to steal doubles! Haha.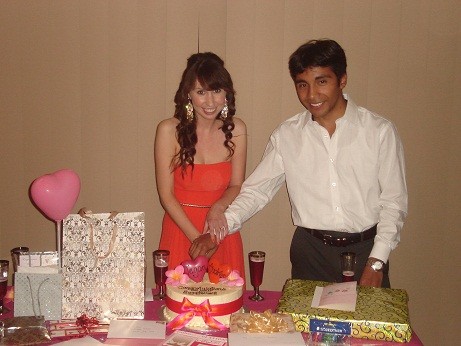 Gluten Free Engagement Cake
Tegan
To all the staff at Heidelberg Cakes, Thank you so much for the beautiful and very delicious engagement cake that you made for my fiance Andres and I on our special night. My mum found Heidelberg Cakes when she was looking for a place that does gluten free cakes for my 21st, as I cannot eat gluten, which at times can be very hard! It was such a special, amazing, beautiful suprise! It was such a treat to be able to enjoy such a beautiful and delicious cake again without feeling unwell. Since then we have returned and this time it was to order our Engagement cake! I was really excited, as I am very interested in cake decorating and creative work, I had drawn up some ideas for our cake, perfectly suited for the both of us. My fiance Andres is from Colombia and seeing highly decorative, creative cakes was uncommon to him. He was absolutely amazed and blown away with the cakes that are created here and was extremely happy, excited and amazed for our Engagement cake. It was exactly how we imagined! We were both very happy and excited with how it turned out! It was beautiful! We both loved it! It was the perfect cake for us! The cake matched perfectly with the tropical, pink and orange Colombian theme for our Engagement party. With the bright tropical colours, the pink frangipanis, our names on either hearts, along with the tropical citrus delicious cake. It was divine! Absolutely delicious! The best cake we had both ever had! Along with all our guests lining up, complimenting, saying how much they loved it and asking where it was from. Everyone couldn't believe it was gluten free either, with how good it tasted! Thank you so much Heidelberg Cakes for making our engagement cake so special and memorable for the both of us. Yours Sincerely, Tegan.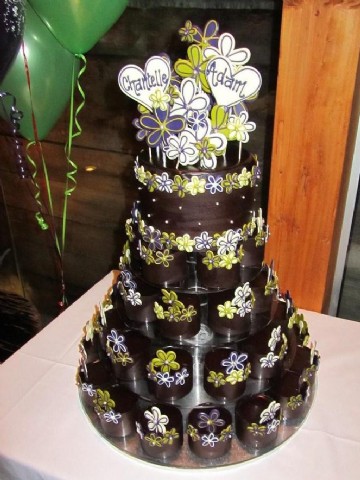 Chantelle and Adam
Hello to all at Heidelberg Cakes,We just wanted to thank you for our amazing engagement cake, we were just blown away when we arrived at the restaurant to see it. Not only did it look amazing it tasted amazing too, so many people commented on it even those who were not a part of our celebration. Thanks again, we will return for our big day.ᅠThanks Again, Chantelle & Adam.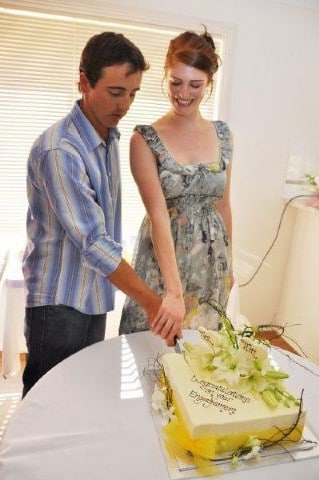 Jennifer
This is a photo of me and my Fiance cutting our absolutly BEAUTIFUL, DELICIOUS cake! We got so many compliments on not just the look but how good it tasted! Everyone wanted to know where I got it from so I guess I picked good! Also I loved having our names on the cake, the calligraphy was lovely.ᅠSo thank you and I look forward to my wedding cake.ᅠTim and Jennifer.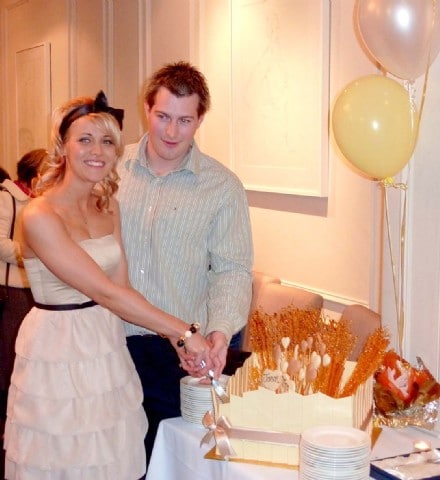 White Chocolate Shards & Toffee Engagement Cake
Tina & Jason
Hi. I'm just writing to let you know the cake we had on the weekend was fantastic. Everyone loved it and they couldn't believe it was gluten free. The design was beautiful and the taste was sensational. Thank you so much. I will definitely be spreading the good word about your cakes. Kind Regards, Tina.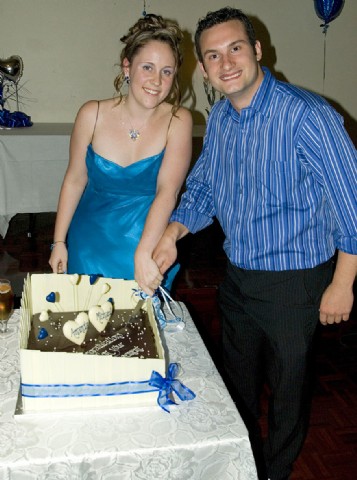 Blue & Silver Themed Wedding Cake
Amanda & Michael
This engagement cake matched with the theme of Blue and Silver for this party.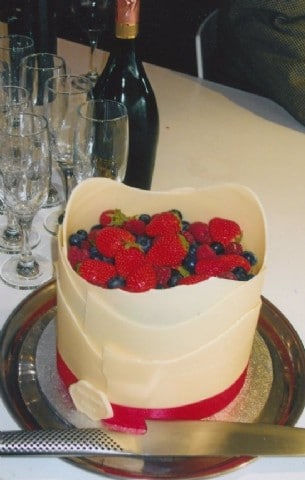 Strawberries and Triple White Chocolate Collar
To the staff at Heidelberg Cakes
, We would like to thank you fot the work you did on our engagement cake! Everyone loved it, it looked and tasted Fantastic!!
We will gladly tell our family and friends about the great service you provide!
We will be back for the wedding cake!
Thanks once again
. Adele & Steven.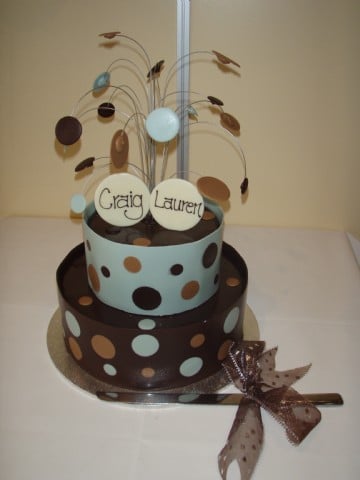 Lauren and Craig
Dear Heidelberg Cakes, We would like to express how thrilled we were with our beautiful engagement cake! Thank you for your creative design and helping us carry our theme right through the special day. Lauren and Craig.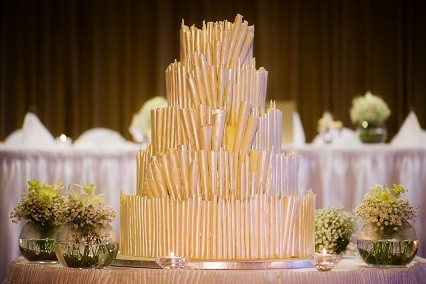 Chocolate Curls at Their Best
Great cake. We absolutely loved it. Amazing. Great comments how it was so different, as well. Thank you so much.